News
The First International Academic Symposium was Successfully Held
On July 6th 2010, the first International Academic Symposium was held in China Maritime Museum as Schedule, sponsored by China Maritime Museum and with the cooperation from Shanghai Maritime University, China Institute of Navigation, and Chinese Society of Naval Architecture and Marine Engineering. The conference was themed with "the Position and the Duty of China Maritime Culture". Song Dexing, director of Shipping Bureau under the Ministry of Transport and Shen Xiaosu, deputy director of Shanghai construction and transportation commission were presented and extended congratulations, and Yang You, academician of Chinese Academy of Science and Professor Songpu Zhang from Kansai University gave lectures at the symposia as well. Also, more than 100 specialists and scholars participated in the meeting.
7 noted pundits spoke on the symposium with their thesis in the main venue; while in the chapter house experts had discussion about "the Position and the Duty of China Maritime Culture" and highly appreciate the globality of Chinese maritime industry and the importance of the cultural exchange platform the museum is acting as.
Becoming the research center of the Chinese maritime culture is supposed to be one of the significant aims in the development of the national maritime museum. Endorsed by the Ministry of Transports and Shanghai municipal government, the museum will take the symposium this time as a new beginning to turn academic forums into ordinary activities by annually conducting with the slogan of "high quality, high level, high grade", to form a premium brand in maritime culture communication, to serve Chinese maritime culture and the development of Shanghai International Shipping Center, and to provide exchange platform for international shipping industry.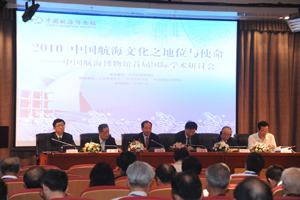 Yang You, academician of Chinese Academy of Science