News
CMM Delegation in the Netherlands to Boost the opening of "Yin&Jan,China and the Netherlands connected by shipping"
On the morning of April 4, the Joint Exhibition by the name of "Yin&Jan,China and the Netherlands connected by shipping" opened at the Rotterdam Maritime Museum of the Netherlands. Among the nearly 100 VIPs present at the opening ceremony were Rotterdam mayor Aboutaleb, Chinese ambassador to the Netherlands Zhang Jun and China Maritime Museum (CMM) vice president An Chengyao.
At the opening ceremony, Rotterdam Maritime Museum president Mr. Loomeijer briefed the guests on his Museum and the preparatory work for the Exhibition.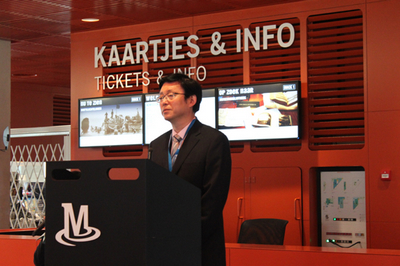 Mr. An Chengyao delivered a speech at the ceremony in the capacity of one of the Exhibition organizers. He thanked personages of various circles for their attention and support to China Maritime Museum and welcomed the guests to visit another exhibition of its kind within the premises of China Maritime Museum in 2012.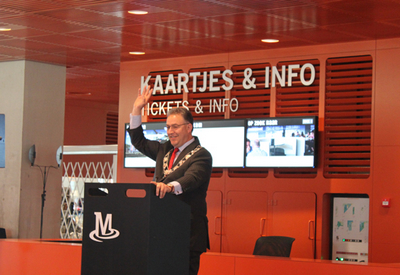 In his speech, mayor Aboutaleb explained the meaning of the Exhibition theme: "Harmony of yin and yang, the Two Opposing Principles in Nature". Hoping for strengthened relationship between China and the Netherlands, he said that the year 2012 would mark the 40th anniversary of the establishment of diplomatic relationship between China and the Netherlands, with a series of cultural events to be held in Shanghai. He hoped that Shanghai and Rotterdam would further develop their sister city ties. Ambassador Zhang Jun said in his speech that the friendly cooperation between China and the Netherlands is beneficial to both sides, and the present Exhibition is one of the important fruits of cultural exchanges between the two countries.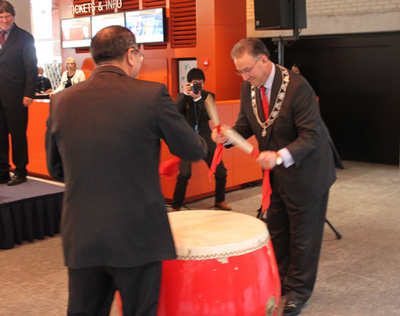 Focusing on maritime cultural exchanges between China and the Netherlands, the Exhibition consists of 6 sections, namely "Shaking Hands", "Knowledge and Knowhow", "Home and Away", "Supply and Demand", "Going Global", and "Tea with Milk". China Maritime Museum displayed 14 items of porcelains, ship models and books which vividly reflected the exchange history of the two countries.
Rotterdam Maritime Museum went to great lengths to show the cultural elements of each country at the opening ceremony. They organized the local Chinese community to perform drum beating, lion dance, Chinese zither, calligraphy and kite-making, which left a deep impression of Chinese culture on all the visitors.
The Exhibition will last for one year in the Netherlands and move to China Maritime Museum in the second half of 2012.